Photo by Cheryl Haselhorst/AFN Contributor
By Greg Macafee, AFN Sports Editor  |  
Following Mountain Pointe's trouncing of the eighth-seeded Highland Hawks in the 6A quarterfinal at Karl Kiefer Stadium Friday night, coach Norris Vaughan spoke to his team with joy and high praise.
But one part of his postgame speech stood out more than the rest.
"It's all about believing in one another," Vaughan said.
And as senior two-way player Delano Salgado made his way to the middle of the huddle and raised his helmet in the air with his teammates, they yelled in unison: "Believe."
Despite being the top seed in the 6A playoffs, Mountain Pointe approached Friday's game with a strong sense of determination. At the same stadium just over a month ago, Highland gave the Pride a run for its money and a reason to fear its season hopes could come crashing down.  
The Hawks went into the locker room with a 13-0 halftime lead but ended up shocked in the end as Mountain Pointe flipped the switch in the second half and pulled off a dramatic 14-13 win – one that exemplified great character at that point in the season.
"First time we played (them), we turned the ball over three times inside our own 20," Vaughan said. "We've gotten much better since then."
One way Mountain Pointe has significantly improved over the course of its season has been through the passing game and its ability to open up the offense, in part because of its running game.
Junior quarterback Nick Wallerstedt has grown up before Vaughan's eyes and he put his strong arm and accuracy to the test in the second quarter. After back-to-back first-down runs by Gary Bragg and Marshawn Gibson, Wallerstedt found Gibson wide open on a play-action pass for a 31-yard touchdown to give Mountain Pointe a 14-0 lead.
Following an impressive defensive stand, Wallerstedt was given another golden opportunity to air it out. The Pride began the ensuing drive with a few run plays and a first-down completion to Sky Hinojosa.
One play later, with the Highland secondary sleeping, Wallerstedt launched one of the more perfect passes you'll see on a football field as Lacarea Pleasant-Johnson hauled it in for a 62-yard touchdown to give the Pride a comfortable 21-0 lead heading into halftime.
From then on, it was all Mountain Pointe.
The Pride defense showed up in full force as it shut down Highland quarterback Kaleb Herbert and the Hawks offense to the tune of just one first down in the first half.
"We've been playing really well the last three weeks," Vaughan said. "Around this time of year, we always seem to come on and play better football."
The play of the night came in the third quarter following an onside kick recovered by Highland. Herbert and the Hawks were marching down the field looking to cut the score in half following a touchdown pass to trim the lead to 28-7.
Herbert stepped back in the pocket, surveyed the secondary looking for an open receiver, scrambled out right and on a ball that appeared to be out of everyone's reach, Gibson jumped in the air and brought down a miraculous one-handed interception to put a stop to Highland's momentum shift.
It highlighted an outstanding defensive performance by one of the best defenses in 6A.
For Mountain Pointe, the quarterfinal win is only the beginning in what hopes to be a playoff run of redemption, following last year's state championship loss.
"We're definitely playing with a chip on our shoulder," Salgado said. "Even though we're the No. 1 team, we're not going to play like it. We're going to act like we've been here before and it's really important to us to come back and finish this time."
Mountain Pointe will move on to play the fourth-seeded Perry Pumas next week for a chance to return to the 6A State Championship in Tucson.
The Pumas were thought to be the top seed heading into the playoffs but were ousted by Mountain Pointe. They're coming off a convincing 72-14 victory over No. 5 Hamilton.
"We know they have a great quarterback and a great team through the air," Salgado said. "But on the other side, we have a great defense so we're going to come out and play hard."
Against Hamilton, the Perry Pumas lit up the scoreboard after the two teams battled in a shootout earlier this season with a final score of 65-63. When referring to a great quarterback and a great team through the air, Salgado was referring to quarterback Brock Purdy and receivers D'shayne James and Colby Dickie.
Before Friday's matchup against Hamilton, Purdy had tallied over 3,000 passing yards and over 700 rushing yards on the season. Contributing to an offense that has scored 760 points this season, Dickie and James have combined for 1,755 yards and 18 touchdowns through the air this season.
But they probably haven't seen a secondary like Mountain Pointe's since their lone loss to Chandler earlier this year.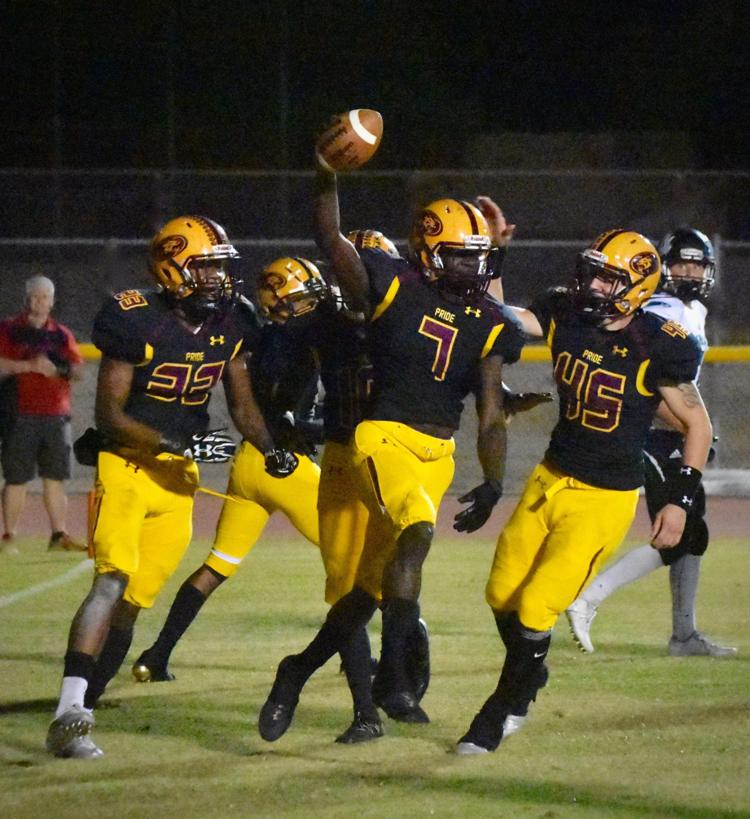 Along with their potent offense, the Pumas display a strong defense that could limit the strong running game of Mountain Pointe's Gary Bragg, Jakim McKinney and Salgado. Travis Beckman, Jobiin Sweatt and Harley Scott have been nuisances in backfields all season long, tallying a combined 24 sacks.
Unlike most of the remaining state playoff games, these two teams haven't faced off yet this season, so they are both unfamiliar with the other. But that just means that on Friday night, these two teams will be in for an exciting matchup to see who will go to the 6A State Championship game in Tucson.
Mountain Pointe and Perry kick off at 7 p.m. on Friday at McClintock High School in Tempe.
Chandler vs. Red Mountain.
In the other 6A semifinal game, the Chandler Wolves will face off with the Red Mountain Lions. These two teams played against each other during zero week back in August and the Wolves put a beating on the Mountain Lions, winning 42-14. Since then, though, both teams have gone through a lot of adversity.
After losing their first two games of the season, Red Mountain might be the hottest team in the state, winning 10 straight games behind performances from all-around athlete Lance Lawson.
The Wolves have also gone through their own adversity as they were forced to play a slew of games without some of their key players.
Fully healthy, the Wolves look to return to the State Championship game for the second straight year.